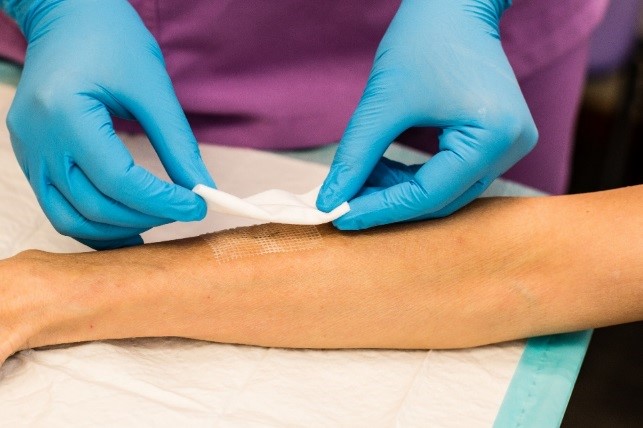 Basic Wound Care
A wound neglected is a wound infected. Expand your knowledge and care holistically for your patients.
Enrollment in this course is by invitation only
About this course
The Basic Wound Care Course has been designed to equip the Community Care Sector with relevant information pertaining to wound care management knowledge. You will be required to complete all elearning modules prior to your final case presentation and assessment with your Facilitator. Total 12 hours of elearning and 4 hours of Zoom/webinar facilitation.
Topic 1: Skin Facts (Self-paced elearning 4 hours)
Topic 2: Skin Tears (Self-paced elearning 4 hours)
Topic 3: Management of Pressure Injuries and Moisture Associated Skin Damage (Self-paced elearning 4 hours)
Topic 4: Zoom session with your facilitator at a designated date and time, 4 hours
The modules will start with a recall of the anatomy and physiology of the integumentary system to detailed assessment of ageing skin and exploring the common skin conditions plaguing the elderly patients and finally rounding off with exploring different prevention methods/ products commonly used.
Participants must complete all quizzes and submit relevant case study presentation (using PPT slides) to the administrator 2 days before the scheduled online zoom session.
Participants would be required to present their case study findings to the Facilitator and obtain a passing score of 50% to be eligible for a Certificate of Participation jointly issued by AIC, SLH and SUSS. The certificate will only be issued to you via email upon completion of your course.
What you will learn
On completion of this course, you will be able to:
Describe relevant knowledge and skills to provide skin care and maintenance of skin health for patients.
Describe evidence-based care in assessment, prevention and management of pressure injury.
Distinguish between the available wound care products.
Apply tips and techniques learnt to provide holistic wound care for patients.
Course Staff
Kavitha D/O Sanmugam


Biography


Kavitha D/O Sanmugam is an Advanced Practice Nurse at St Luke's Hospital. Kavitha has attained her Masters' in Nursing from NUS in 2017 as well as an Advanced Diploma in Medical/Surgical in 2011. She has completed WOCN Certification in 2019. She is experienced in managing NPWT wounds and have conducted Negative Pressure Wound Therapy (NPWT) workshops.

Caroline Tan


Biography


Caroline Tan is an Assistant Nurse Clinician at St Luke's Hospital. Caroline has been specialising in Wound management and prevention in geriatrics (pressure injury, skin tears) for the past 6 years. Her area of expertise is in managing surgical dehiscence, diabetic wounds/ulcers, Management of Moisture Associated Skin Damage (MASD) such as Incontinence Associated Dermatitis (IAD), Periwound Moisture Associated Dermatitis (PMAD). She is also versatile in manual wound debridement and Negative Pressure Wound Therapy (NPWT) dressings.